2016 Local Link Building Guide for Local Businesses

If you are a business owner, you understand the need to drive customers to your website! This local link building guide is super important for your business to take it to the next level online.

But first, let me get your attention…

In 2016, I thought that 100% of local business owners would know how important it is to rank in the major search engines like Google for the keywords that users are searching for to find their business online.
You still wouldn't believe how many business owners don't take action on their local search visibility and their business suffers because of that decision.

Here are some interesting stats from Forbes.com about how small businesses view SEO and online marketing's value:

Less than 50% of U.S. small business owners think of inbound traffic from search engines as an "important" source of future business.

14% of U.S. small business owners declared themselves unsure about SEO's value.

Only 17% of surveyed (Small Business Authority survey) small business owners are actively investing in SEO.

A startling 39% of business owners aren't investing in any marketing strategies whatsoever.

According to Leverable.com, one study found that 72% of business owners with an SEO strategy felt it improved their bottom line.

Another study found that SEO leads have a 14.6% conversion rate, compared to 1.7% for outbound marketing, and are 61% less expensive to acquire, on average, than outbound leads.
So based on a lot of the stats above, thousands of small business owners are missing out on significant business opportunities from organic and other marketing channels because they don't believe it to be significant or important.
Alarming studies show that 96% of businesses fail by the 10 year mark. If you are part of the 4% at that milestone, then you are doing something right.

There are a ton of reasons why so many businesses fail in the first 5 to 10 years of existence, some including; not managing cash flow and increasing profits, too many expenses, and much more.

Another reason is because small businesses don't invest properly in SEO or don't invest at all in their online presence!

Why is this the case?

Unlike in the past, the current century majorly depends on online marketing. That's why you see the below percentage of the amount of users that search online before making a buying decision.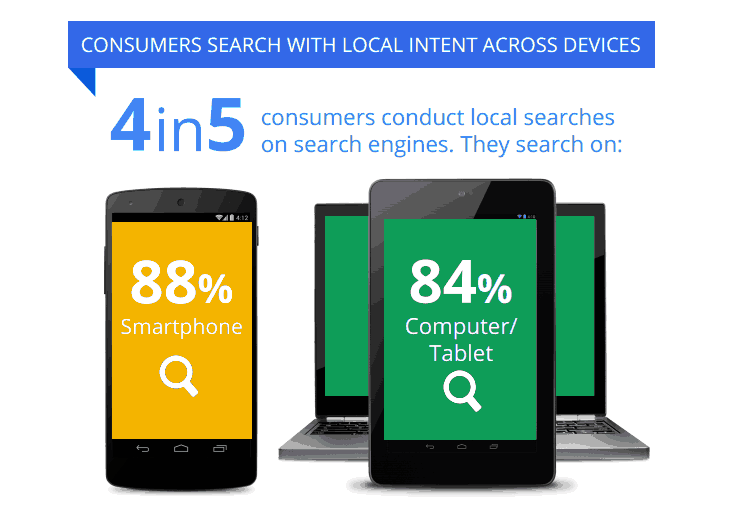 You may have a geographical location for your store or boutique or your an online E-commerce store, wouldn't it be easier for your business if you were consistently getting calls because they found you online?
I have dealt with clients that see their business needs to grow online, but flat out said I'm going to do it the old-fashion way by cold calling.

There is nothing wrong with cold calling, but you are going to make this your main marketing funnel? Traditions are meant to be broken and times have changed. We are in a very much so digital world!
Once I dig a little deeper and show them the value their competitors are getting from SEO compared to what they are doing, it helps them see the immense value.

Times have changed, and most people have embraced the modern technology. There are businesses that run strictly online too. Where a product is bought only online and is delivered later.

In case you own a business and would like to increase your sales by creating real human traffic to your website while you sleep, there are tons of ways you can do this, but one strategy that I would like to focus on today is local link building.

If you are using SEO now or interested in investing in online marketing, every quality SEO Expert should know that links are one of the most important SEO strategies that Google look at to rank your site higher in its search engine.

If this is all non-sense to you, look at link building this way: another website adding your website on their website.

In terms that you may understand, if you create a Yelp account and add all of your business's information there including your website. Your business just received a new link from Yelp (key is adding your website).
The more links, the better. Obviously there are a ton of local link building strategies behind how to build links for higher search rankings, but you get the gist.

Google looks at quality and relevant links as a voting system. Your website is considered popular when other websites link to your website. Some of them you can manually create (i.e. Yelp), some of the best ones are natural!

If you are wondering how you'll build a link or links for your business, below is a list of local link building strategies for you (this is very time-consuming and methodical process, so let us do it for you):


1. Create Controversy and become the Topic of Discussion
People love drama, news, adventure, and gossip! It may not be easy to create controversy but think about it, read, do your research and come up with some newsworthy content.

Some examples are, come up with inspirational quotes depending on your target audience and begin your local link building process. People will click for inspiration.

You can also think about common issues between you and your target audience. This one is huge!
I have a client that was first ever to become a standardized testing facility for athletes. Of course this is big news, but we were able to create a press release and submit this content on 1000s of major media outlets and build some quality links to the content.

Lastly, share your news and idea with the public on your social media networks like Facebook, Twitter, and Instagram.

2. Find Ways of Getting Nominated for a Business Award

Your city is always promoting companies that are winning awards, that have success stories or contests, etc. The businesses are typically published in the local newspapers on print and online.

Search for award opportunities within your local area and get nominated. Two things will happen here:
1. You will get some publicity on your local city websites2. You will get a link to your website
How to search for business awards:

Search Query Example: "Business Nomination + City Name" (i.e. Business Nomination Charlotte NC)

OR

Search Query Example: "Business Award + City Name" (i.e. Business Award Charlotte NC)

When I search Google with these keywords, the first result is http://www.bizjournals.com/charlotte/nomination/. See the image below, someone in your company could be nominated for the individual award and your company could be nominated for the business award. Either way you could get a link back to your website.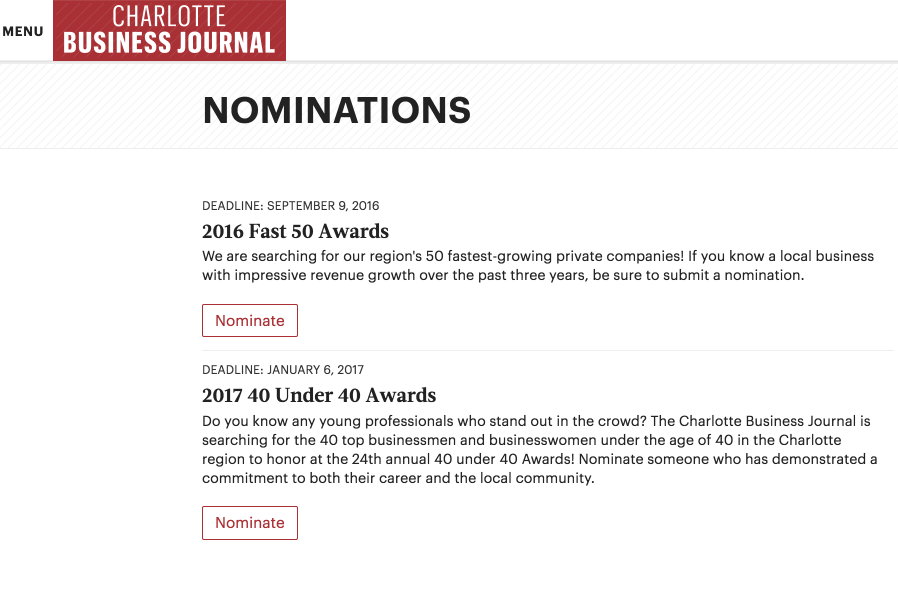 The key to this is winning the award! There are so many awards like this, so don't be discourage if you don't win your first few. Keep plugging away and continue to be great at what you do in your community as a business!

3. Host a Community Event
As a business, you should plan a social event. Depending on the type of event, certain groups of people may attend. When the word is out, you may invite your local press for coverage at a small fee.

Meet and greet and share your ideas. That is how your business and website will get exposure.
4. Make Donations to a Local Club or Sponsor One
There are tons of organizations that could benefit from a sponsor as a good will for the community, which in turn can benefit your business.

A football team or some type of local foundation in your city are good examples. You can find opportunities to donate or sponsor organizations.

I see this all the time with competitors and a lot of my clients are encouraged to do this. Yes, it may costs some money up front, but your business will get visibility when that local club or organization is out in the public eye and you will get a link back to your website online which can help with your search rankings.

How to search for these sponsorship or donation opportunities:

Search Query Example: "City Name + inurl:sponsors" (i.e. Charlotte NC inurl:sponsors)

OR

Search Query Example: "City Name + inurl:donations" (i.e. Charlotte NC inurl:donations)

6. Build and Promote an Amazing Local Resource
Since you clearly understand your city or town as a local business, you can come up with a community resource page on your page or website.

The strategy would be for the resource page to attract local business people and tourists around your area creating exposure to your site.

Travel, restaurants, upcoming organizations, chamber, real estate, city related websites may link back to your local resource.

Why?

They want to provide value to those who are thinking about visiting the city to buy good and services or visit their website. The key to this is creating an amazing resource. Let us at Organic Clicks create the resource and then get other websites to promote it!

If you want to do it yourself, come up with a list of ideas that is demanded from your city's residents.

5. Give Back to the Community with a Scholarship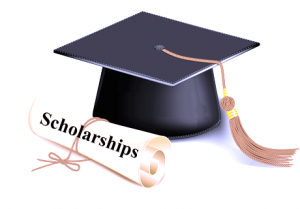 This is one of my personal favorites because you are giving money for a good cause (i.e. student's tuition, expenses, etc.) and your site gets some really strong .edu backlinks. See exact steps below:

1. Decide on how much you want your scholarship to be (it doesn't matter how much, but I haven't seen much difference in performance from a $500 scholarship vs. a $10,000 scholarship)

2. Decide on what you want the student to do. Typically, student scholarships are essay based. Have the student write an essay about your industry or a general topic.

3. Have an attorney or someone in your legal corner to create a disclaimer to for your scholarship contest.

4. Create a scholarship page on your website.

5. Reach out to colleges to that have a general scholarship page and get a link to your scholarship page.

6. Grade essays and decide on a winner!

/li>

7. Announce the winner (publish the winner on your scholarship page) and send funds to the winner's financial aid office at the university/college.
Check out this Scholarship Page Example!

Search Query Example: "scholarship inurl:general"

Well as you can see, link building can be a time-consuming process. From you conducting research on the types of activities to organizing events to emailing partnership opportunities, link building requires your focus and attention to detail. There are a million ways to build local links and I have listed a few here.

With the listed link building strategies above, these will definitely boost your overall website's authority and performance for the organic search results. However, there are other types of links that you need to build to help you boost your rankings in the local 3-pack!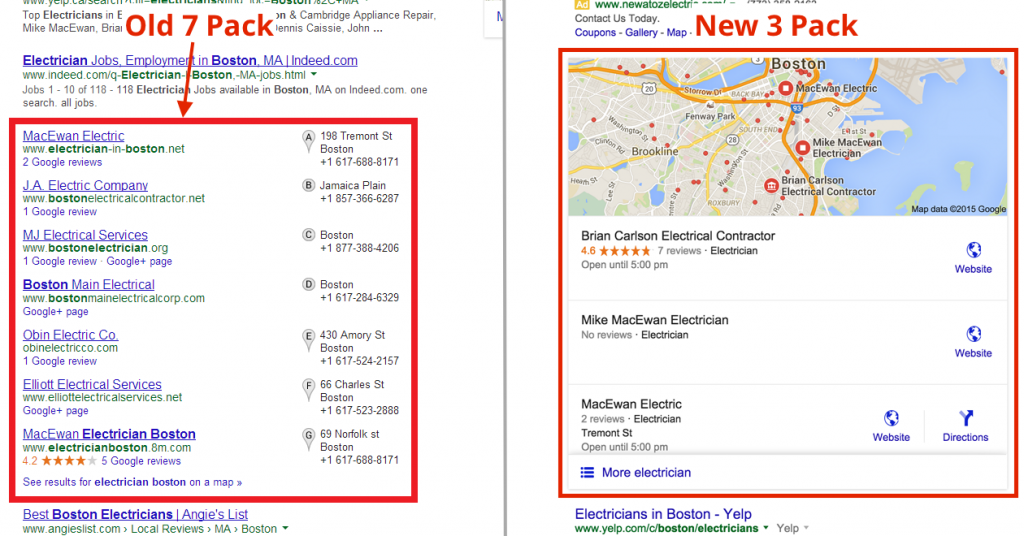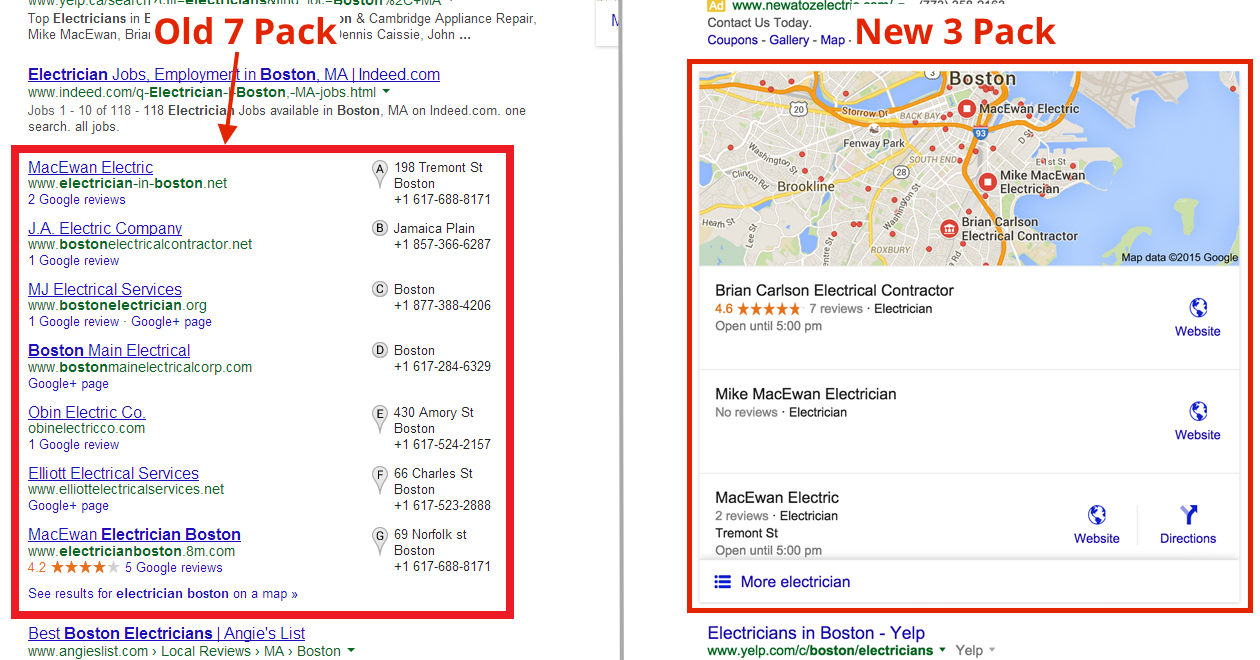 Ranking in the local 3-pack that you see above is simple! Get positive reviews on your Google+ page, add detailed information to your Google+ page with a description, pictures, website, etc. and then build local citations!
I talked about building local citations in this blog article on my website, but here is pieces of it!

Local Citations
Having your business regularly mentioned on other local sites or directories will increase your local rankings and traffic.

The citation should include your (NAP) which is your business's name, address, and a phone number, with a link to your website. When your business is mentioned on other sites, its reputation and popularity is likely to increase.
Here are some of the most popular local citations (there are tons of them for every industry):

Yelp

Yellow Pages

Superpages

Yahoo Local

City Search

Better Business Bureau

Merchant Circle

Angie's List

Manta
To master all the requirements in an ever-evolving online marketing industry, it is recommended that you seek the services of an SEO Expert or agency.

Organic Clicks, LLC has a SEO specialist ready to help your business grow and provide white hat manual link building strategies to drive authority, leads, and clicks in your local market. Organic Clicks, LLC can be contacted TODAY at 704-288-4645 or fill out the form below for your FREE Website Consultation!

What are some other ways to rank in the local search results that has worked for you?
Free SEO Audit
Get your free SEO analysis in 45 seconds to understand your website's visibility online. Don't let clicks, traffic, leads, and revenue pass you by. Fill in the form and click the button below.