Why Local Businesses should use Google My Business Posts
Here is a Local SEO video that I created a few weeks ago on the importance of using Google My Business posts in the local search results. Here is the video and transcribed version, enjoy!
Local SEO Video Transcription
What's up everyone?
My name is Lamar. I am the founder of  'Organic Clicks' which is a local SEO, and web design company here in Charlotte North Carolina. This is episode two, and we will focus on Google my business post or not to post.
This is a really cool feature that I'm sure a lot of local business owners do not know about, or they're not using. And you definitely want to take advantage of it. The goal here is just to add value in the local SEO community, so we'll jump right in.
So, the first thing is if you're a local business and you do not have a Google my business profile, you need to log off now and go get one. So all you have to do is go to google.com/business/, and it's pretty simple. You just sign up and get your Google my business listing today.
And why it is important, so if we go to Google now and we search "doctor charlotte north carolina" these are local targeted location-based keywords. This three pack or local pack here, it is called a local three pack will pop up. And you want to show up in here when someone is searching for non-brand keywords.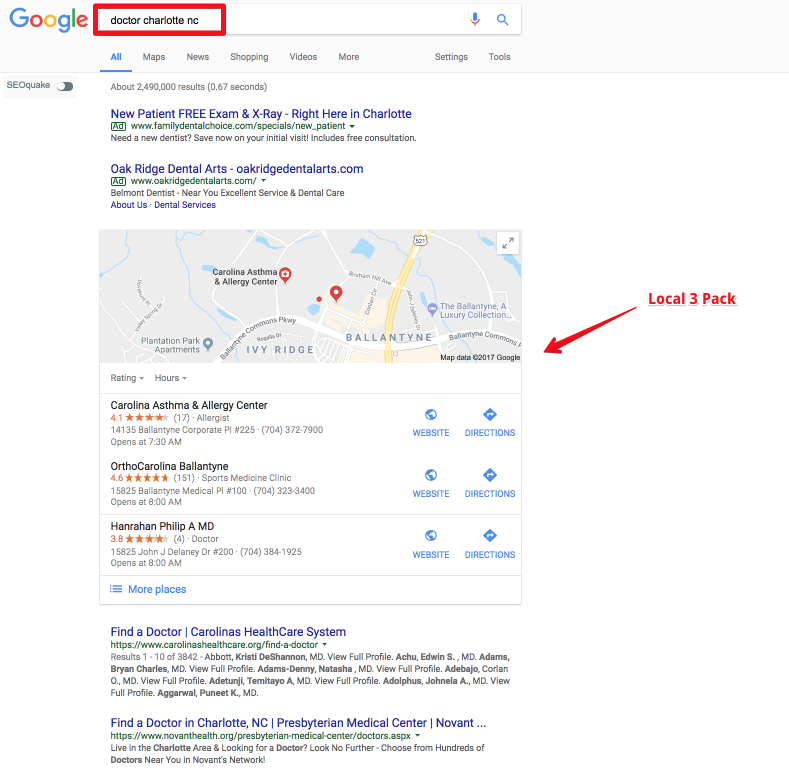 So, non-brand keywords are the keywords that are not your brand. So it doesn't mention your name. It's very general to a specific location. Before the three pack, it was the seven pack. So Google has now condensed this down to three. So there are a lot of factors here that you have to consider from a local SEO standpoint to rank in this three pack. But that's a whole other conversation. But you want to definitely have a Google my business profile because if you do not have one, again, you will not show up in this three pack. And it's at the top of the fold when it comes to searching in Google.
So here's my Google my business profile. You can see the information that I have from our business. Obviously, you wanna have your business name. If someone has created one for you and it's not verified, you wanna make sure you verify it. Add your phone number, the hours of operation, website, address. Category is important so the services that you provide are known by Google and to the people that are searching for what you provide. So, it's just pertinent information for your businesses; that's the business information that you want to add here. There's also a lot of other cool features such as the virtual tour. You can have a lot of photos to show the quality of your work.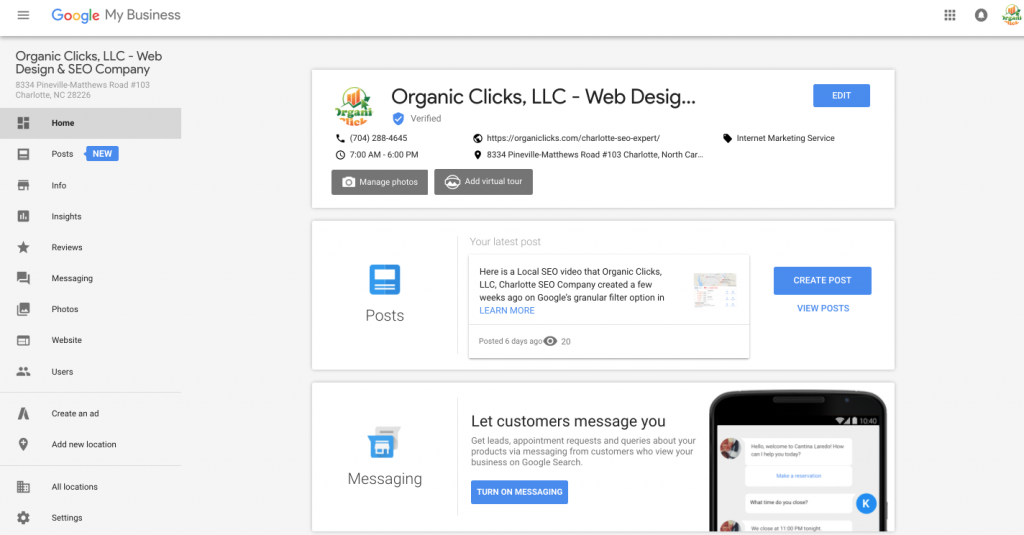 The Insights feature is pretty cool, so you can see how people are engaging with your Google my business profile whether that's just viewing it, visiting the website, taking action; that's the ultimate goal, right? Reviews are important. We talked about this in episode one last week. But getting reviews on Google my business profile is one of the top local SEO factors for any local business. The messaging feature is pretty cool, so customers can message you directly from your Google my business profile. So, there's a lot of cool information here.
What we're talking about today is this post feature. This is again a new feature launched by Google back in June of 2017. And just to give you an idea of how Google my business profile will look in Google. So if I search my business 'Organic Clicks' Charlotte, here's the Google my business profile. And what we're going to talk about today is the post feature which is… This is where I posted episode one of last week in my Google my business post feature, and it shows up here. So, I'll include this in the description of this video just in case you want to go back and watch it. But it's very important to update all. You see all the information there? That's all the information I've updated in the back of my Google my business profile.
So let's talk about the post feature really quick. So if you click on post, here's where you can add a new post, and what you add in this post is an image. You can write up to 300 words, you can build some urgency with start or end time, you can add a button, so this is a call to action. So this is important because you want people to take action, learn more, signup. Whatever the case maybe, you want to have that visitor to take action.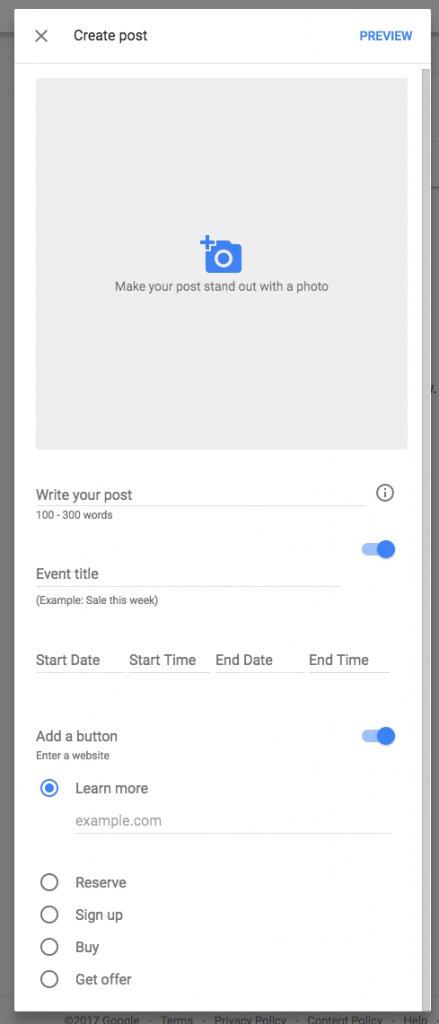 You know Google says this feature can be used for daily promotions, events, newsletters, if the patient can or customer can book an appointment from your website or in my case request a Free SEO Audit, you can create a post for that. But the ultimate goal is to drive brand awareness to an event or something that's going on in your business, so that you can drive awareness to that. So I think that is pretty cool, and again this is how it shows up.
Another thing to note here about this feature is this feature was actually created back in January 2016. Google called it the 'Canada Card' and it was more for political searches. So for political candidates. And Google saw the value of it and then rolled it out to all local small businesses back in June of this year. And this post doesn't last forever.
There's a 7-day expiration time frame, so it expires in seven days. And the cool thing is you can continue view engagements for this post within that time frame, you can see actions that were taken for that post. This will give you some good insights because if you see that a post was better than another based on the call to action or the content that you put, so that you can adjust.
But again, this is a cool feature that I think everyone that has a local business should be using. You gotta think about it like Facebook social media. It's a different channel that you can just drive more awareness to your business. So the question is, "Post or not to post?" And in my opinion the answer is yes. I do appreciate your time. I'll see you guys next week in episode 3. Have a great rest of your day.
Thanks!
Free SEO Audit
Get your free SEO analysis in 45 seconds to understand your website's visibility online. Don't let clicks, traffic, leads, and revenue pass you by. Fill in the form and click the button below.