Google Adds More Granular Review Filtering In Local Listings
Here is a Local SEO video that I created a few weeks ago on Google's granular filter option in the local search results. Here is the video and transcribed version, enjoy!
Local SEO Video Transcription
What's up everyone?
I'm Lamar, and I'm a founder of a Local SEO Company here in Charlotte North Carolina. You know my goal is just to continue to provide SEO value to the local community, and to local business owners.
So each Friday, I'm just gonna have a quick episode of something that would be valuable for a business owner to learn, or another SEO. Whatever the case may be, I just want to add value here.
So today, we're going to discuss the granular filters in the local pack. And this is something that Google has just recently updated, and I just want to bring some attention to. So if you're a business owner, getting reviews online is super important. And two reasons in my opinion is customer perception.
Customers go online, they're looking at different types of businesses, and they're also looking at what other people are saying about those businesses before they make a buying decision.
Secondly, it's ranking. So Google really looks at how many reviews you have. Obviously, there's more local SEO factors, but reviews play a big part in that. So ranking in the local three pack is what you see on the screen. So rankings are very important and so are having solid reviews. And just looking at this search result and kind of thinking about hurricane Irma.
I hope everyone's safe here in Charlotte and also across the southeast as well as the hurricane hits. But say someone searches for a home repair Charleston South Carolina. And you can see that in this local three pack here, Rapid Repairs is number one. They have a 4.5 star rating, and then also Charleston Home Repairs is number two – 4.5 rating, eight reviews. And then, affordable home repair is number three with one review and one star rating which is not good.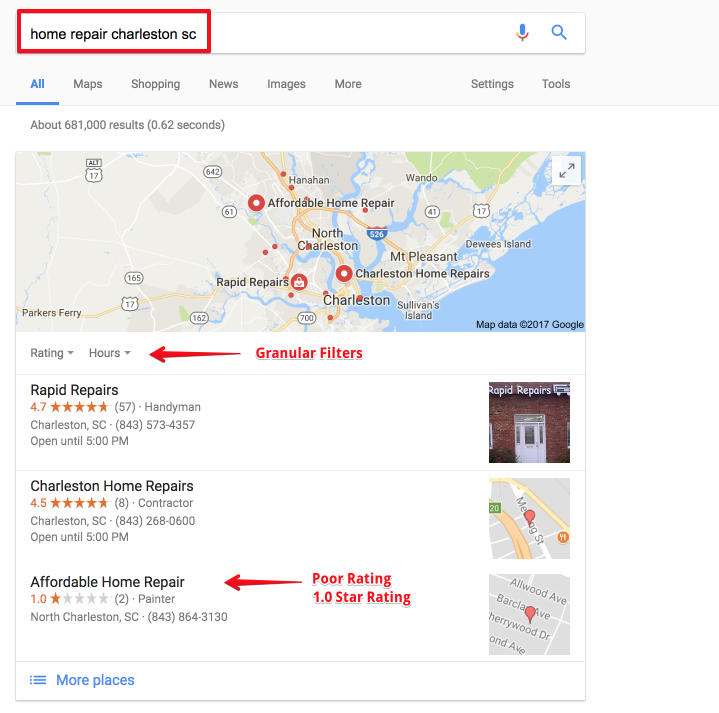 But what Google has done is like so if you click on… If you see this rating filter here, you click on that and you then click on 4.5 star rating. It's only going to show the businesses that have that high of a rating. So it's important to get positive reviews. And how do you do that is just being an outstanding business providing great customer service, and great work. But you can see here affordable home repair is not included in this list.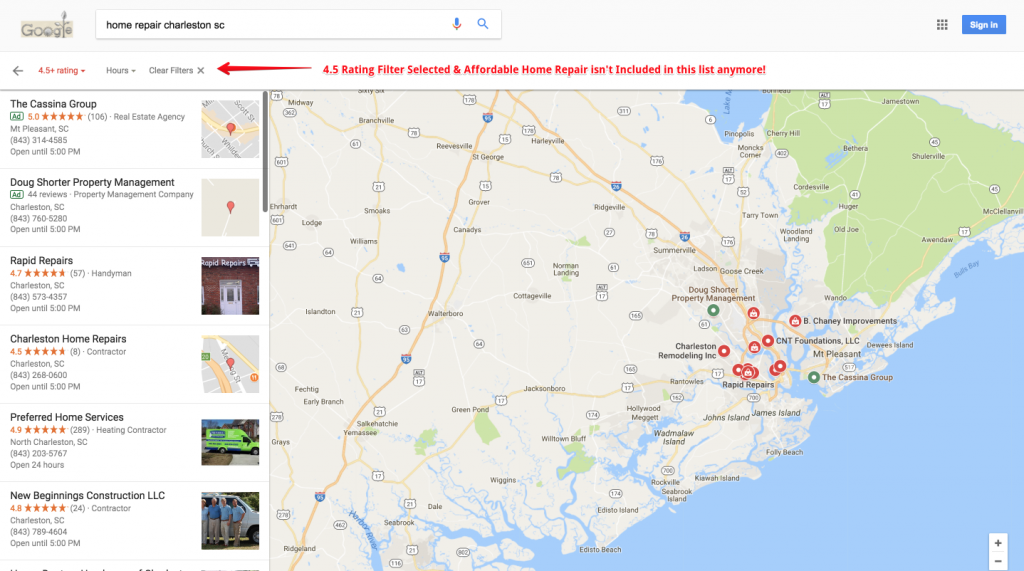 You have to continue to search for it and it's not going to show up because their star rating is not high enough. But interestingly, they're ranking in the three pack there.
But I will say 80% of customers look online before they make a purchase decision. And then out of all of Google search, 46 percent or somewhere around that range is local searches.
So as a business, you want to make sure you're staying on top of reviews, and providing quality service in the local search field.
Other than that, thank you guys for listening. I do appreciate your time, and I'll see you guys next week. Thanks.
Free SEO Audit
Get your free SEO analysis in 45 seconds to understand your website's visibility online. Don't let clicks, traffic, leads, and revenue pass you by. Fill in the form and click the button below.