LOCAL SEO FOR HEALTHCARE PROVIDERS
As a healthcare provider or business owner, I hope you know how important Search Engine Optimization or SEO is in building a successful online business.
Most people fail to give the importance and value it deserves.
Why?
Some do not know where to begin.
If you are one of those who have been longing to take the leap but don't have enough knowledge and skills to implement SEO, read on…
It is legitimate to have these concerns but don't let these keep you from going after your goal.
What is Local SEO?
Local SEO is the process of helping websites rank better in the local organic search results. Optimizing your web presence through on-page SEO, off-page SEO, and pay-per-click services help websites gain more click-throughs and customer retention.
Local SEO is the same as general SEO, the difference is local SEO targets keywords that are attached to a location. For example, "keyword" + "location" = "dentist charlotte nc". "Dentist" is the targeted keyword, "charlotte nc" is the targeted location.
Courtesy of Searchengineland.com, Here is a good visualization of what SEO is in and how it works.
Why SEO for Healthcare?
Search Engine Optimization has a simple objective for healthcare providers: to attract more patients by improving their site's online presence. When a website has SEO tactics like content with rich keywords, inbound links, and social media referrals, it has the power to succeed online.
We have compiled 50 tips you can use to guide you in implementing and maximizing SEO for your healthcare practice.   
50 Basics Local SEO Tips
1. Start using SEO – There's no better way to maximize the value of online marketing than to start implementing SEO now. The longer you forego the implementation, your competitors will have higher chances of getting ahead.
Your main goal should be to answer the question of your potential patients: "If I come looking for healthcare providers, shall I find you or your competitor?"
2. SEO is not an overnight sensation – Do not expect immediate results for SEO strategies you have implemented today. It may not show up tomorrow or the next week. It takes time to see solid results and when you do, it is important to continue with your strategies to ensure consistency and efficiency.
I can't stress this enough!
I understand you may be paying someone to handle your digital marketing, but if they understand what needs to be executed and are consistently executing those strategies, then you will eventually see results! This can all depends on how good the SEO company is, local competition, website authority, how much you are willing to invest in your growth online, and etc. 
3. Know your competitors – Before you start any SEO campaign, it is important to identify and analyze your competitors first. Identify those related websites that are ranking on Google's first page of search engine results page (SERP). Analyze what they have done on their website why they have good rankings.  
4. Use SEO best practices when designing or creating your website – Do not just create website for the sake of having one. Use SEO best practices when designing your website particularly when working on your wireframe or sitemap. We don't focus on one-page designs, but multiple page designs with a hierarchy. 
Here is a SEO website launch guide as a reference.
5. Understand that no two websites are identical – What worked for one website may not work the same on your website. Yes, you need to check what your competitors are doing and analyze their ranking factors. But keep in mind that copying them exactly won't work the same way on your site. There are so many local SEO factors to consider in order to get better ranking in search engines.
6. Use both on-page and off-page optimization – These two are inseparable. You will find it hard to reap good results if you fail to implement or just focus on one strategy – one will not work without the other. On-page is the content copy, adding the targeted keywords within the content and SEO elements, lead captures, etc. Off-page consists heavily on link building and citations, more to come there. 
On-page optimization refers to the strategic placement of keywords on the website. This includes titles, URLs, meta description, images, and content.
Off-page optimization include strategies that will help your website rank better. General and local link building can greatly help your site rank. Google assess a website's value based on the number and quality of backlinks it receives. Backlinks can make or break your website's ranking. That is why it is extremely important to get your backlinks from relevant sources.
Set-up your site in Google My Business and have your patients review your services. Good reviews can help your site's rankings particularly in local search results.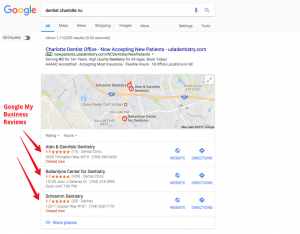 Building local citations can also help your website rank better, especially in the local 3-pack (image above). It is also important to get listed on major local and relevant business directories. Business directories can help patients find healthcare-related services. So, when they come looking, it is important that they will see you on that directory.
Google also determines the authenticity and physical location of a business through the number of citations. Just keep in mind that you must be consistent in providing your business information – NAP (business name, address, and phone number).
7. Be patient with your new website or venture in to local SEO – Do NOT get frustrated if your site is not reaping results right away. As mentioned, SEO is not magic that deliver results overnight.
It takes time to incorporate all ranking factors particularly trust and authority. Even if you have already established your stand online, you should not expect you can already outrank older, more reputable websites. Remember, it took them years as well to get to where they are now.
8. SEO is a work in progress – NEVER stop doing SEO even if you have already launched or established your website. One of the greatest ranking factors in search engines is fresh content so be sure to ALWAYS update your website with fresh content.
9. Adapt to changes – Do not always take Google updates as penalties. Adapting to these Google updates can help you improve your rankings and traffic. It is important to be on top of the latest algorithm update to make sure you apply the latest SEO strategies.
10. Need not be expensive – SEO should not be too costly. It should at least provide you a higher ROI once there is consistency of local SEO execution. You can always opt to use strategies that yield organic traffic first before you use Pay Per Click or Google Adwords.
11. Understand that it is far more important to build your content and your website for your potential patients and not merely search engines. Some healthcare providers are too focused on making their websites search engine friendly that they tend to "over optimize".
Always keep your potential patients in your mind when creating content – ask questions like "how would they want to consume your site" or "what information would they want to see" and from there develop and improve your website.
Technical Pointers and Strategies
12. Setup Google Analytics – This will help you track your traffic and its sources, your keywords in the healthcare industry or those that are driving your traffic, and the pages your leads are visiting.
Google Analytics can help you track conversion on your site. Through your booking appointment forms, you can track conversion by creating a goal in Google Analytics.
Once a potential patient fills up and completes the book appointment form, the conversion funnel is triggered and Google Analytics will record the conversion. These will show up on your data.
By tracking goals, you will be able to see by channel (i.e. organic, paid, social, email, etc.) which marketing efforts are performing the best. Then you are able to add or reduce budget in certain areas.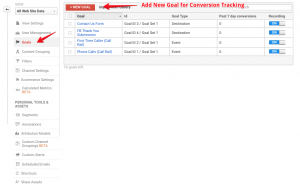 13. Setup Google Search Console or Webmaster tools – This will you track keywords and your site's ranking. It will also help you find other helpful insights regarding your website such as crawl errors and index status or how Google is taking note of your website.
Search Console will communicate with you about any manual website penalties, allows you to submit your sitemap and/or pages to Google to crawl and rank in the search results, and much more. 
14. Use valuable SEO tools – It is best to use other SEO tools to give you a better insight on your websites performance in terms of keywords, ranking, content, etc.
For keyword research and monitoring, some of our favorite local SEO tools are Ahrefs (competitor and keyword analysis), BrightLocal (citations) SEMrush (local SEO performance), and etc.
15. Take note of good on-page optimization factors such as meta title, meta description, headings or H-tags (H1, H2, H3), keyword density, etc. Implement them using SEO best practices.
16.  Remember: Make sure you use ONLY one H1 tag for each page of your website. The H1 tag tells what your page is all about. Search engines value H1 tags more than the other headings.  
17. Your H1 tag should contain your target keyword and should match or is relevant to your page title and meta description.  
18. Keep your meta title under 72 characters. Although, Google does not use character count but focuses more on pixel.
19. Start your title with your target keyword. The closer the keyword is to the beginning of the title, the greater the value.
20. Use long tail version of your keywords. You can use modifiers such as "quality", "top", "best", etc.
21. Your title should define what your page is all about. For example, if the page is about your dental services, you may say "Best Dental Services in Charlotte, NC". Mention the city and/or state where your clinic is located to help you in your local search ranking.
22. Branded keywords such as the name of your clinic is ideally placed at the end of your title tag – not in the beginning. For example your page title could look like this: Best Optometrist Charlotte, NC | Jerry's Optometry 
23. Keep your meta description to 150-160 words. Your meta description is your unique selling proposition. This will tell your potential patient or leads the kind of information they can obtain when they click the link. It should answer their queries. Don't forget a call to action (CTA) at the end of your meta description. 
24. Use your target keyword in the description, preferably at the beginning of the copy.
25. Always think about using call-to-actions in copy, descriptions, several times on individual pages as your closing efforts.
26. NEVER stuff keywords in your title tag, description, or copy. This is the old way of doing things and can now get you penalized.  
27. Do not forget to use ALT attributes on your images. Search engines cannot read pictures or images. They rely on the ALT attributes to identify what the image is all about.
An alt attribute is an HTML element that allows you to provide alternative information for an image if a user can't view it. You can also use keywords in alt attributes to support your website's ranking.
I would even recommend naming your image file with geo-targeted keywords. For example, healthcareprovideraustintx.png.
28. Fix broken links – It's not only annoying for visitors to click on a link only to find out that it is broken but can also jeopardize your "crawlability" for search engines.  
29. No duplicate content – With the recent Google algorithm changes, duplicate content is the number one cause of Google penalty. Duplicate content has the same or almost the same content on two or more pages on your website.
30. Conduct thorough keyword research. Use Google's keyword planner tool to find related keywords. For healthcare providers like you, it is important to identify the keywords you should be targeting.
Factors like volume search and competition rate are important. The best keywords to use are those with high search volume but have lower competition rates. Finding long tail keywords are some of the best keywords to target. 
31. Use long tail keywords. If your targeted keywords that have high search volume and high competition rate, you can still use it and outrank your competitor by using long tail keywords. This means you add modifiers or words.
Long tail keywords are keyword phrases with 3-4 words.
32. Use keywords but speak in semantic language for your customers. Using keywords and semantics in your titles, meta description, web copies, header tags, and image alt tags is ideal.
33. Again, NEVER overstuff keywords. Gone are the days of higher keyword density in an article or content. Use keywords naturally. In a 500-word copy, for example, you can use your target keyword in your title, H1, first paragraph, 1-2 times in the body, and at the last paragraph.
34. Use SEO-friendly URLs.  Keep them under 100 characters in length, short and sweet, using your targeted keywords. Do not use underscores, use dashes instead. For example, this is a Good URL: www.massagewebsite.com/massage-treatments/deep-tissue-massage/ and this is a Bad URL: www.massagewebsite.com/deep-tissue-massge/?id=1234566/
35. Implement internal links on your webpages. Internal links connect your site's pages to each other. This helps search engines navigate your site efficiently and can increase overall site engagement by readers finding additional information that they may not have otherwise found without you directing them to other pages through internal links.
36. Use keywords in your anchor text. Anchor text – this is your linked text, like this. Do not over optimize your anchor text. Do not stuff it with keywords. It should flow naturally and should describe what the linked page is all about.
37. Use structured data or schema markup. This helps search engines understand the type of content you have on your site. It makes everything clearer for search engines. There are different types of schema according to your content. You can use a review rich schema so Google can display reviews and ratings within search results. Schema markup can also help increase click through rates in the search results. See example below: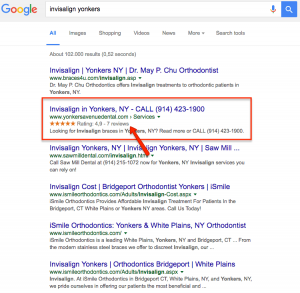 38. Make your site mobile friendly. As a healthcare professional, you must understand the importance of mobile optimization. More and more patients are maximizing the use of information using their mobile devices. A lot of potential clients that we do an SEO audit for have mobile issues. 
Here is how to test if your website is mobile-friendly! You will not rank very well if your site isn't mobile friendly!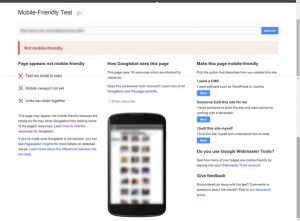 39. Check your site's loading performance. This will affect your ranking. You may have to optimize or cleanup your site's technical structure to speed up performance. Testing your mobile AND desktop site speed is important, not just one or the other.
If a visitor can't access your site in a timely fashion, they are bouncing right away and going to the next site. In addition, Google will notice this and lower your rankings, so that users don't continue to have a poor search experience. Here are some good websites to test your site's overall load speed performance. 
40. Leverage the power of social media. Use social sharing buttons on your website. You are more likely to obtain new leads and referrals through social media. It will be easier for patients to share your content online.
41. Increase engagement. Provide valuable, high-quality content. The longer your visitors stay on your site, the better. Ask questions throughout your content. Create blog content that answers your patients questions relevant to your industry. This creates trust and can lead to sales.
Same for a FAQs or Testimonial page, as this can help with user generated local content. 
42. Use videos more often. Reports show that more than 60% prefer watching video than reading. Videos also increase the amount of time your patients spend on your website.
43. Write blog posts. As they say, content is king. Regular, fresh content from your website signals regular update to Google. With blogs, you are also showing the level of expertise you can provide to your patients. See more on this in step #41. 
Technically, blogs can help you rank better for your targeted keywords. But, keep in mind that it is important you focus on providing quality, valuable content. Write for your patients, not for search engines. Some healthcare providers commit mistakes of over-optimizing their content or not writing any at all.
Ideally, blogs should be 1,000 words or more. This length is enough to provide the right and accurate information regarding a certain health topic and allows you to add a ton of value and use variation keywords.
Avoid using general content. Provide as much tangible data as possible such as statistics, history, etc.
44. Use more visual data such as charts, graphs, and infographics. Aside from easy sharing, people can understand chunks of information better – particularly in the healthcare industry where information are technical or scientific in nature.
45. Guest blogging. By posting high-quality content on other websites or blogs, you are building high-quality backlinks, which will help improve your ranking.  This is tough and is a ton of manual work, but if done properly can have a HUGE return!
46. Avoid low quality backlinks and citations. Get quality backlinks from relevant and trusted sources only. Low quality links can hurt and may even get your site penalized. Even when adding your business to local directories, find those that can add a ton of value because of its authority.    
47. NEVER get involved in link buying or link networks.
48. Sponsorships, Networking & Community Involvement. As a healthcare practitioner, don't hesitate to be involved in your community whether that is sponsoring a cause/event, attending meet-ups or conferences, etc.
49. Build local citations consistently. You can check and assess your current citations via Brightlocal and Whitespark, two of our favorites. These applications can also help you build citations on other directories and see where competitors are building their citations. Be sure to list your site to Google My Business, Bing Places, Yelp, and other major directories. This is one of the MOST important local SEO strategies for healthcare providers or any business for that matter.
Use consistent NAP information across business directories. Make sure the business name of your healthcare clinic, address, and phone number are correct and consistent. Claim or update any old citations. I mentioned consistency in my last point, in the words of the Great TD Jakes, "you better RUN after your destiny!" Be consistent!
50. Using Paid Search. Participating in Google Adwords can be a great kick start for your business if you don't have any traffic starting your new digital marketing campaign. Essentially, you pay for the #1 rankings, so this is based on your budget, Ad copies, keywords, etc.
We have seen this to have a huge impact on sheer call volume, engagement, and brand awareness for our healthcare clients.
Conclusion
The greatest tip of all, aim for conversions. Yes, numbers matter, particularly for your website's performance. However, the volume of traffic your website receives is useless if there is no conversion.
Keep in mind that you use SEO to help you drive traffic to your website. But you should aim more to convert that traffic into leads or patients. That is why it is important to have more engaging content to convince potential patients that they have come to the right place and you are the health practice to do the job.
Healthcare marketing's main objective should focus more on better patient experience. As healthcare providers, you should use SEO to drive information to your patients with better and easier access.
As the healthcare industry moves and grows towards a new era of "accessible" healthcare services, it is more critical for medical practitioners to invest in online marketing particularly SEO for their business. 
One last thought…something else you will have to consider is reputation management as you can't please all patients.
If you are in the healthcare industry and need HELP with your online marketing, don't hesitate to reach out to Organic Clicks, LLC for an initial assessment. 
Free SEO Audit
Get your free SEO analysis in 45 seconds to understand your website's visibility online. Don't let clicks, traffic, leads, and revenue pass you by. Fill in the form and click the button below.