Top 6 Link Building Strategies for Small Businesses
When it comes to search engine optimization, link building is probably one of the most important approaches to increase online visibility. Link building involves getting quality links back to your website from other sites with relevant content.

On the contrary, link building is the most important, but at the same time is one of the most time consuming strategies that no one wants to do right! If you look at the search ranking factors graph below, you will notice that links play a major role in ranking a website in the search engines. The link popularity of a page makes up 22.33% of Google's ranking algorithm.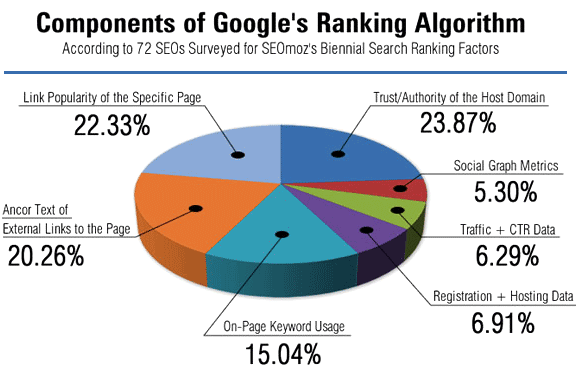 History of Link Building

The origin of Link building dates back to 1999 when a webmaster discovered that they could attract an audience for their site by exchanging links with other websites. At that time, the only way they could achieve this was through sending a ton of emails to other websites begging for links.

In the early 2000s, Google introduced the SEO directories such as Yahoo to help with link building. During this era, the introduction and popularity of blogs created an avenue for building backlinks through commenting and leaving a link.

In 2006, websites started paying to get links and later that year Google introduced the no follow tag to protect users when selling non-editorial text links. However, a year later, the "pay for links" strategy went underwater after Google banned paid links. In 2010, broken link building and press releases were introduced as an online marketing strategy.

In 2011, Google launched the Penguin algorithms to detect unnatural SEO links and web spam, known as "Black-Hat SEO". To be cautious, here are some ways to avoid a Google penalty. Today, link building remains to be one of the highly regulated online marketing techniques, but the most significant nonetheless. However, with link building expert, you can get the most out of this strategy.

Why is Link Building Important?

Link building is the blueprint for a website's success. With the evolution of online marketing, companies have adopted link building as one of the most important strategies to build authority in their industry. Businesses that have well planned and coordinated SEO link building strategies have a competitive advantage over their competitors.

Quality links can help generate leads that convert. In SEO, quality link building increases your website's position in the SERPS hence generating higher CTR, which can result in more sales leads. Clients who reach you through reputable websites are likely to develop trust which is crucial in relationship building. When done correctly, link building creates loyalty that leads to long term relationships between the client and the business.

Lastly but not limited to, link building is a great source for brand development. Links can help an online business build its brand reputation and portray itself as an authority in its industry. For instance, quality guest blogging can increase the reputation of a brand when readers perceive the writer as an authority in a given field. Take the term "quality guest posting" to heart! Matt Cutts, a Google expert, stated that guest blogging is dead! Guest blogging isn't detrimental unless you try to game the system.

The Most Effective Link Building Strategies

For an effective link building strategy, some techniques have proven to be worthwhile. The following link building strategies are well rounded to improve your search engine page rankings and improve your brand's image as well.

1. Local Citations

Having your business regularly mentioned on other local sites or directories will increase your local rankings and traffic. The citation should include your (NAP) which is your business's name, address, and a phone number, with a link to your website. When your business is mentioned on other sites, its reputation and popularity is likely to increase.

Here are some of the most popular local citations:

2. Infographics

The website's content quality is another determining factor for a successful search engine ranking and brand authority. The use of authoritative data to create links is crucial in building your brand reputation. The content should be able to trigger emotional responses and lead to social media sharing.

Infographics are great for telling a story in a visual way. Here is an example infographic! Infographic creation is a saturated market, but can still be a quality link building strategy and earn you some quality links.

3. Quality Guest Posting

Quality Guest posting is another way to create links to your website. Becoming a guest blogger for an authoritative website will establish your reputation as an expert in your niche and attract potential customers to your site. Guest interviews are another way for creating links to your site and increasing traffic. As mentioned above, be careful and focus on quality guest posting.

You should use tools such as; Majestic SEO, Ahrefs, or SEMRush to determine if a website has quality backlinks. You also want to make sure that the potential website that you could get a guest posting from doesn't post guest posts frequently. You can check by going to the website and typing "guest post" in the search bar.

4. Press Releases

A well structured and targeted press release is likely to direct attention to your site and increase search engine rankings. You typically create a press release when you have launched a new business or product. If your having a big event that needs public attention a press release would be a good idea. PR Web is a great press release distribution service that will create and distribute your press release to thousands of journalists, bloggers, and news websites.

5. Broken Link Building

In broken link building, the primary objective is to replace relevant dead links with your links. To do this, you have to ensure that your content is of high quality to replace the lost content that webmasters are looking for. With the help of an SEO professional, you can maximize this strategy to get the most from it.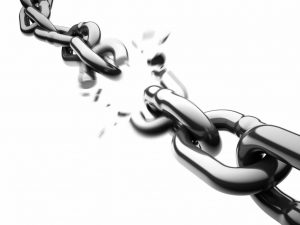 6. Resource Page Link Building

Resource page link building is probably the oldest technique in the SEO link building book. Although this tactic is not the best in direct traffic generation, it often leads to more links. In the long run, resource page links lead to more links hence increasing search rankings.

One resource link building strategy could be that your service is a utility for residents locally or nationally. For example, DIRECTV provides satellite TV service and can service residents across the U.S. There are tons of city websites with a utility's page where they list utility providers for their residents. Here is an advance search query to find those types of cities.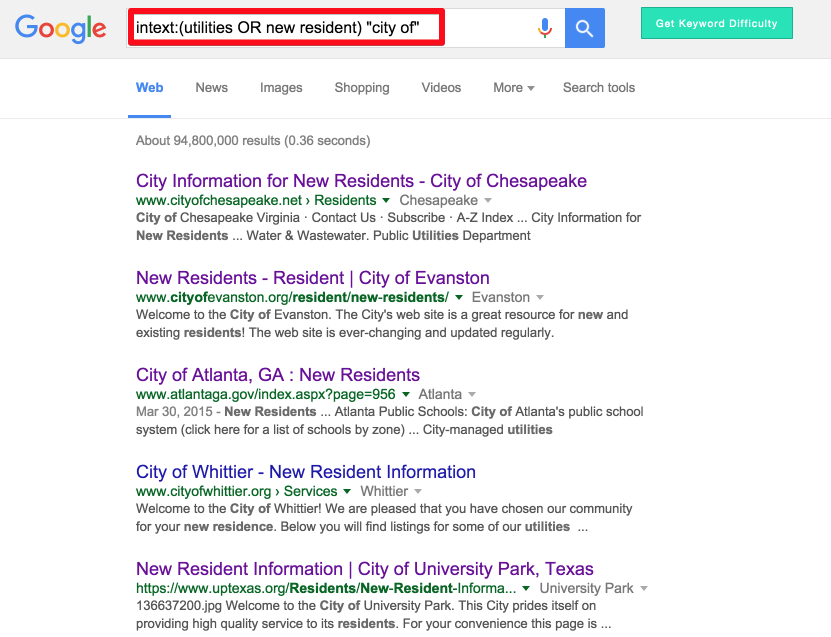 Conclusion
With the introduction of algorithms such as the Penguin to detect and deal with unnatural and spammy links, it is imperative to ensure that you observe the best link building strategies to keep your business safe long-term. This means that your content should be of high quality and the links to your website should be related and non-spammy.

In search engine optimization, the use of outbound and inbound links can affect your page ranking depending on how you use them. When your outbound links direct to spammy sites, Google will catch on and there will be consequences. Users are likely to associate your site with the links pointing to your site, and if annoying, you can be sure that they will not come back. On the other hand, if your outbound links lead to quality sites, you will create a trusted reputation for your site.

When your site has no outbound links, your page ranking will also suffer given that the search engines will assume your site to be inferior. The use of quality outbound links enhances the user experience by offering them resources when they need them. Inbound links, on the other hand, direct users to your site from other sites. When correctly done, inbound links will be the greatest source of traffic for your site. However, you have to make sure that they are on high-quality sites or else users will associate them with spam if they are on spammy websites.

To master all the requirements in an ever-evolving online marketing industry, it is recommended that you seek the services of an SEO specialist or agency. Organic Clicks, LLC has a SEO specialist ready to help your business grow and provide white hat manual link building strategies to drive authority, leads, and clicks. Organic Clicks can be contacted TODAY at 704-288-4645 for a FREE Consultation!
Free SEO Audit
Get your free SEO analysis in 45 seconds to understand your website's visibility online. Don't let clicks, traffic, leads, and revenue pass you by. Fill in the form and click the button below.