Why is Local SEO Important for Small Businesses?
Many may not know but local SEO (Search Engine Optimization) is similar to Organic SEO in many aspects, but they are also very different at the same time. Local SEO focuses on providing results to the searcher based on their present location. For example, if a person searches for the best night clubs in Vegas, Google would show the results, that are nearest to this targeted location.

Or a searcher could change their Google search settings to be set to a specific location, which Google will take in to account when a local search is queried. Over the past few years, local search engine optimization has significantly grown, specially because of the increase in the usage of the smartphones and the improved connectivity.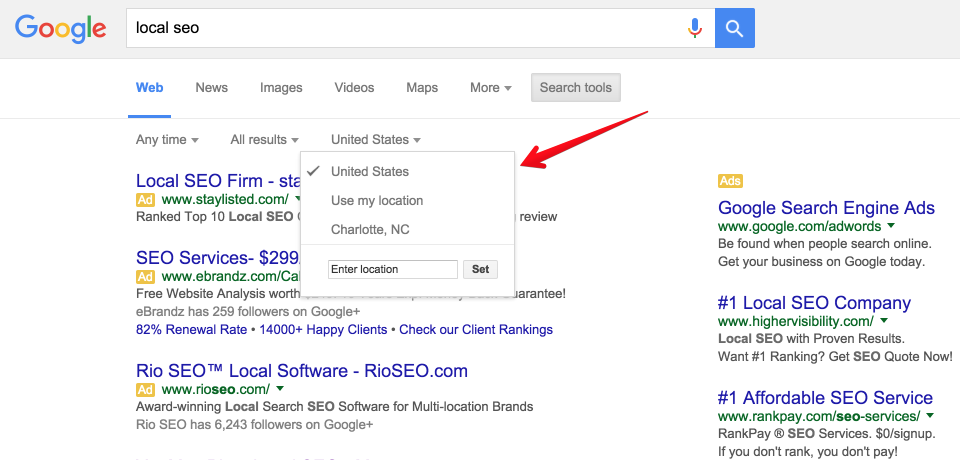 Organic Clicks, LLC provides many online marketing services to small and medium-sized businesses, including local search engine optimization. It is important for all businesses to understand why they should invest in their online marketing.

Most people have a smart phone and/or a computer. Millions of people search for local services on a daily basis, if a small business isn't competing online, it is missing out on a HUGE opportunity to serve their customers who rely on Google to provide them with the best search results. Here we have laid out the benefits of local SEO for small business owners.

Benefits of Local SEO for Small Businesses

Improved search ranking: If a small business uses a SEO company like Organic Clicks to execute local search engine optimization, it can really attract a lot of traffic and can improve their rankings in the SERPs. Even if a person searches with a popular non-location-based keyword, but is still related to that business, it can still rank in the search results.

Targets right customers: Local SEO improves the chances for a small business to improve their visibility in front of their targeted customers. Local SEO will help to put a business in front of those people, who are more likely to to buy because they are searching for something specific in a designated location.

Makes the business easier to find: It is not possible for any business to reach its customers instantly. Local SEO helps potential customers find the local products or services that they can do more research on and then decide to purchase online or visit the local store.

Improves Conversion Rate: Local search results are more targeted results. For example, if a user searches for local coffee shops, he or she is most likely going to click on the businesses that rank at the top of the local search results. The higher you rank for any keyword, the higher the click through rate. According to a study by Advanced Web Marketing, "On average, 71.33% of searches resulted in a page one Google organic click. Page two and three get only 5.59% of the clicks. On the first page alone, the first 5 results account for 67.60% of all the clicks and the results from 6 to 10 account for only 3.73%".


Google's Local Snack Pack

Since August 2015, the usual 7-pack that initially showed up in the local search results has been replaced with a 3-pack. A lot of businesses have been hurt by this change because their business doesn't show up in the new 3-pack design. With the increase in the mobile usage, Google has changed its desktop search results to resemble the mobile search results, which is where the 3-pack originated from. Thanks to Hoth team, you can see the difference between the 3-pack and the 7-pack.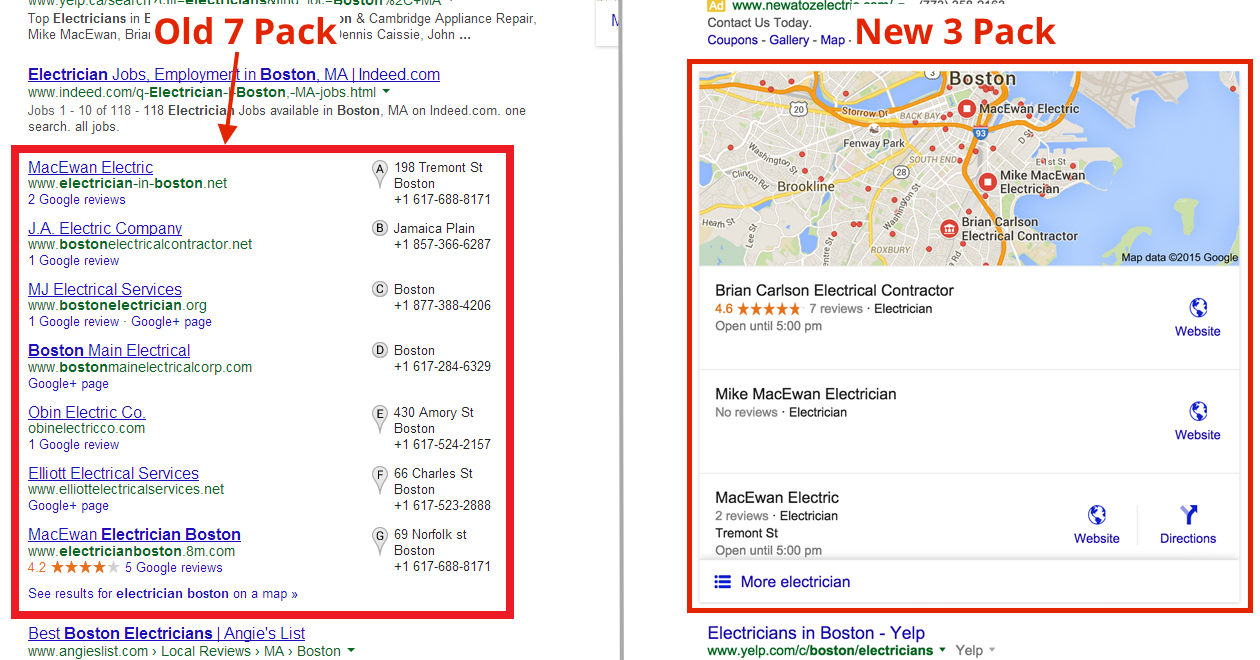 As the 3-pack has become the new reality, it has made a huge impact on local businesses that have several local competitors. With this new change, the websites that are listed in the positions between 4 and 7, will naturally get much less traffic compared to the top three. The flip side of this is that, you can optimize your business to rank higher in the snack pack! Even if a business is listed between 4 and 7, they were still getting some branding opportunity.

The 3-pack is a little Different

1. There is NO full address: This snack pack is not showing the entire address, it is only showing the street name. You can only see the full address when bringing up the panel result on the right side. For mobile users, you cannot see the full address even if you click on the "more" options.

2. Ratings: Google has introduced the rating system. It has added an option, so that, users can search for those businesses, which are above a certain rating. So, having good ratings has played a very important part in local SEO.

3. Decreased role of Google+: The data shows that, those businesses that have links to their Google+ profile, are coming up in regular organic search results, even if they are not in the local 3-pack. But, presently, the photos of the local business in the local 3-packs are shown through the Google Map display and not through Google+, as it used to be.

How to perform keyword research?
Most search marketers use tools like the Google Keyword Planner (which is still a great keyword tool), and then run with the keyword list that it delivers. But, as the searching habits widely vary, this search procedure may omit hundreds of potentially profitable keywords. In order to get better keyword ideas, you should also use the following strategies;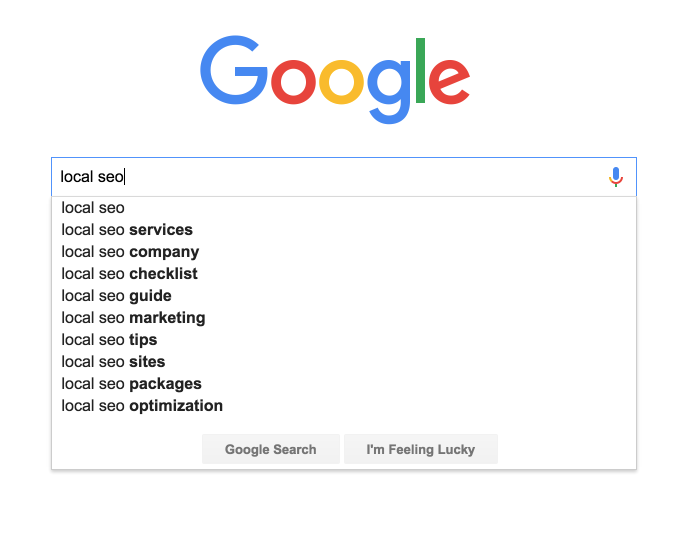 One can even steal keywords from the top ranking competitors meta tags. Once you have a solid list of potential keywords, you can check their effectiveness by using the Keyword Effectiveness Index (KEI) formula or the keyword difficulty score.

Keyword Effectiveness Index Formula Video Explained
Conclusion
How to Rank your Local Businesses?

Local SEO is very different from the average SEO campaign, and it is changing more rapidly than organic SEO. In order to list in the top three rankings, you will have to focus more on local NAP citations, local reviews and My business signals.

Local NAP Citations: First, you need to have full NAP across the entire website. The website should also use Schema markup on the NAP, so that, the search engines can get all of the information displayed correctly in their search results.

Local reviews: A local business should spend time acquiring local reviews, as they usually have a large impact in the local search results. This is not just the Google review, but also on Yelp and other similar local directories. However, Google reviews should be given more priority. In order to do this, the business should encourage their customers to leave reviews online especially if that customer had a extraordinary experience.

We typically have our clients use a Zig Zag form, which shows customers how easy it is to leave a review on Google Plus, Yelp, etc. Businesses can even create a page on their website, where they can instruct customers on how they can leave a review online. These procedures have proved to be extremely effective!

Google My Business: It is essential for all local businesses to have a Google My Business page. Once it is set up, it should be optimized with the correct categories, local phone number, addresses, photos, cover photo, high resolution profile, customer reviews, and etc. By having an optimized Google My Business can help a business to rank higher in the local search results and increase their CTR and engagement.

Lastly, if you are a small or medium size business and are not investing in the right online marketing services, you are doing your customers a disservice. You may think you can't afford it or you have had a bad experience with another SEO company that sold you on their money making packages. Well, look no further!

Organic Clicks, LLC is a small business looking to help small and medium size businesses have a positive ROI. Organic Clicks focuses on many online marketing strategies but specializes in ranking businesses in the local search results. Let us show you how we can help your business grow, call or email today for your FREE website consultation!

Free SEO Audit
Get your free SEO analysis in 45 seconds to understand your website's visibility online. Don't let clicks, traffic, leads, and revenue pass you by. Fill in the form and click the button below.