SEO Guide for Small Businesses
Most small business owners are aware of the term SEO (search engine optimization) or local SEO, but, a lot of them might not realize the importance of the role of SEO for their business.

We have talked to a lot of business owners who are losing money and are not visible online, but they still do not believe they need to invest in quality SEO. When you think about the BIG picture, 80% of small businesses fail in the 1st year! If you are a small business owner, you should definitely read the E-Myth (Why Most Small Businesses Don't Work and What to Do About It). Check out the small business success rate stats below.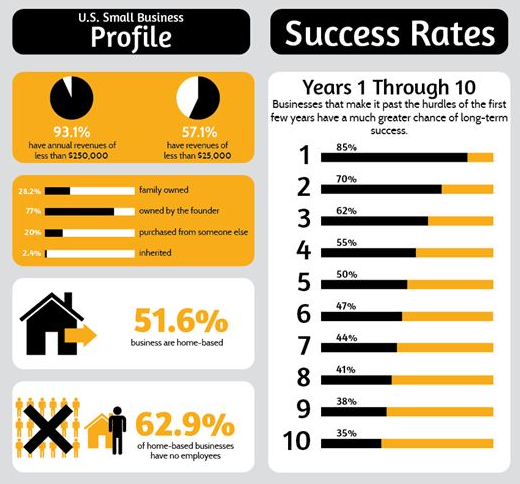 Part of the reason why small business owners do not feel the need to invest in SEO, and you will learn this from reading E-Myth, is that entrepreneur in all businesses owners have to make changes that benefits their business to help them survive the high failure rate.

And guess what?…some small business owners do not make the right changes for their business or make changes at all. The failure rate is too high and there are too many competitors for you not to be investing in a business you have put your life in to.

Another reason is that small business owners may have been burnt by SEO companies before who promised the world and delivered nothing.

We see this all the time and have to add value by doing great work with the customers business and ROI in mind. In addition, cleaning up the other SEO companies mess! Don't buy packages from SEO companies that will provide temporary results.

SEO is an on-going strategy that needs to be executed at a high level consistently over time. SEO packages can help you get a kick start, but will not help you maintain your rankings long-term. Yes, SEO is important, but you have to ask yourself as a small business owner, can you take on more work by generating quality leads from online marketing?

What you do NOT want do is bring in more traffic and you can't handle the volume, which results in you losing business and getting bad reviews online.

Organic Clicks, LLC is a digital marketing agency that was built on helping small businesses survive and flourish with the odds say they won't. However, it is important to ask and understand how SEO can be valuable to your business and if you can actually handle more business in your current situation.

Self-assessment is important and can help business owners make changes to help their business grow and thrive for many years!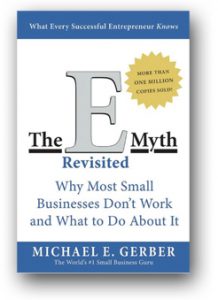 SEO is one of the most important aspect of any online marketing strategy for any type of business. If you do not have a proper content strategy, you will struggle to be found online.

So many business owners, have a website and it is just sitting out in dark space on the 3rd page of Google. What's the point of having a website if you are not going to do anything with it?

In the modern world, people use the internet to search for the products or services that they are interested in. Studies show that 80% of consumers go online before making a buying decision. That number will continue to go up! If they do not find you, you will naturally lose a large number of customers to your competitors. You will look down the street and not understand why they are growing and your not!

Now, what are the steps that you need to take in order to maximize the utilization of SEO. Here is a SEO checklist for small businesses or any business for that matter, which has all the required information that will help you get started or at least have a good understanding of what needs to be done if you decide to hire a SEO company to manage your online marketing strategy.
SEO Checklist for Small Businesses

#1 – Register a Google Analytics Account: First, you will need a tool to track your website's performance and everything that is happening under the hood. Google Analytics will make that possible for you.

With the help of this tool, you will be able to find out all the essential information including, which channel (organic, direct, social media, or referral) is sending you the most traffic, how your visitors are behaving on each of your website pages and much more.

There are a few other similar platforms like Adobe SiteCatalyst, WebTrends and Piwik, which will serve the same purpose. But, Google Analytics is probably the best, as it is simple to implement and is FREE of cost.

To get started with Google Analytics, you need to create a Google Gmail account and then go to Google Analytics and signup. There you will have to sign up by entering your Website name, URL, category and time zone. Then, click on "Get Tracking ID" and get started. You may have to get your developer to place the Google Analytics tracking code on the backend of your website. If your CMS (content management system) is WordPress, that's great because WordPress makes it super easy to add the tracking code by using a plugin or adding it in the header.php or footer.php file right above the closing body tag.
Now, once you place your tracking code on the backend of your website, you can check your analytics account on a daily or weekly basis. For those who are unfamiliar with Google Analytics, here is a video to help you add Google Analytics to your website.

How to Install Google Analytics Video
#2 – Get familiar with Google Webmaster Tools: The next important tool that you need to incorporate is Google Webmaster Tools. This tool mainly helps to ensure that there aren't any active " Manual Actions" against your site. There can be a number of things that may be stopping your site from getting ranked on Google. This is also a free and a highly effective tool.
Google Webmaster Tools is great for communicating with Google in terms of indexing your content through an XML sitemap, requesting for reconsideration when a penalty occurs or your site has been hacked and you have fixed those issues.

FYI…if your site has been hacked, Google will show this verbiage in the search results for your website, "This site may have been hacked". This will definitely reduce your click through rate dramatically, so it is imperative that your developer fix this issue. Once you have fixed the issue, you can tell Google through webmaster tools. Webmaster tools is also great for showing site performance as well.


You can get started with this, by visiting Google Webmaster Tools, enter your website URL and clicking on "Add Site". Then, you will need to click on "Alternative Methods" to verify your site by using Google Analytics. Now, that your site has been added, you can check the crawl errors, crawl stats, impression data, etc., which might have a great impact on your search rankings.
#3 – Run some Competitive Analytics: It is always great to know, how your competitors are getting their traffic. You can understand what keywords and link building strategies they are obtaining to maximize higher rankings and how they are using their social networks to obtain better engagement with their audience. Some of the sites like SEMRush, SimilarWeb and SiteAlert will help you serve that purpose.
You will just need to put in the URL of your competitor's website and you are good to go. You will get to see a boatload of data on any website that you want to see. You will be able access some of the data for free. But, for advanced search there are some paid models as well.

#4 – Optimize the URL, Title Tags and Meta descriptions: Initially, the search engines will look at the URL, title tag, and meta description to determine what the content of a page is about. The title should be able to provide as much information possible both to the users and the search engines on what the page is about.
Using targeted keywords in the first few characters of a title tag is important. Another thing to note is that, title tags shouldn't be any longer than 55-60 characters. Google will not show parts of the title tag if it is too long.
Below the title, there is a small snippet, which describes what your page is all about. If you are a local business, the location, one or two targeted keywords, business name and even the contact number should be a part of your title and the meta description. The meta description needs to be informational and provide call-to-actions to tempt people to click on your results.

Check out the title tag and meta description for one of our clients. You will see that we have added all the important aspects of an optimized title tag and meta description.



#5 – Optimize H1 tag: H1 tag is another essential aspect, as it is another chance, where you can tell your users and Google what the page is about. H1 tags are generally longer than title tags and it should include your targeted keywords as well. We typically use variations of the targeted keywords that were used in the title tag for the purpose of ranking for related keywords.
#6 – Internal linking: These links guide both search engine crawlers and users throughout your website. Internal links help your visitors to find the relevant content within your website's hierarchy and at the same time help Google to associate keywords with landing pages. There is no particular rule, to decide which content is relevant enough to create an internal link for. Ideally, once you get your SEO keyword strategy, make a list of keywords for each page on your website. Then you can use them as your internal link guide.
Internal linking helps with improving your analytics metrics, such as; time on site, bounce rate, and engagement, which you can monitor in Google Analytics. Internal linking is a great way for Google to find more pages to index and serve in their search results.

#7 – Check the site speed: The speed at which your website load has a great impact on the search engine rankings. You can use the free Google's PageSpeed tools to know about your current speed and to use different resources to improve the speed load time.

We also like to use Pingdom and GTMetrix to determine what needs to be fixed to reduce load time. Studies have shown that if a website doesn't load within 4 seconds, the user will leave immediately. These tools will provide page speed performance insights where you can take actionable steps to fix those issues and make your website load faster.
If you are a WordPress user, you can instantly improve the page load efficiency with a plugin like WP Super Cache. Make sure to check all the plugins before setting them live on your site. We recommend only using plugins that are up-to-date and are set to work with the version of your WordPress. Bad plugins can cause more damage to your website that you anticipate, such as; connection errors, hacks by hackers, and more.
#8 – Avoid the Over Optimization While you are utilizing all the above methods, you will have to make sure you do not get hit with an over optimization penalty. This happens when Google finds out that you are keyword stuffing or trying to manipulate the Google search engine results. The main function of the website should be for serving or providing valuable information to the user to help them answer a question they have or find a solution for their need.
So, you should first try to make your website a great user experience and then optimize it for the search engines. Make sure that you have the best tools and tactics, and your website will naturally become more searchable and user-friendly. This will naturally help you to attract more traffic and improve your conversion rates.
Conclusion

If you are a small business owner, ask yourself if you need more business! If the answer is yes, then you need to invest in getting in front of your online customers. More people are online looking for what you sale, but if they can't find you, they will find your competitor next door who is being the visionary for his/her business and investing in online marketing.

Working with the right SEO company is important, start by asking for a FREE website consultation. A lot of the detail in this article is something you as a business owner shouldn't spend your time focusing on. Hire a SEO company like Organic Clicks, LLC to handle your online marketing needs to increase your visibility online and drive more business to your local establishment.
Free SEO Audit
Get your free SEO analysis in 45 seconds to understand your website's visibility online. Don't let clicks, traffic, leads, and revenue pass you by. Fill in the form and click the button below.